Why are university campus tours so popular in China?
2017-08-21
Why are university campus tours so popular with Chinese tourists in China?

As the summer holidays near an end, parents and children are seizing the last chance to visit China's top universities. Such visits have become so popular tourists now have to line up for hours outside campuses' gates just to get in. But what's behind the spike in popularity? CGTN took a tour at Beijing's renowned Peking University to find out.
It is 10:00 a.m. on a working day. Despite being early in the day, a line outside Peking University's northeast gate is already stretching for one kilometer. Most of these early birds are Chinese families from all over the country.
The long wait means little to them. They share a common goal: ensuring their children have access to China's top universities.
"We got up a little late today and arrived here at 9:00 a.m. It is so crowded and now we have to wait here until the afternoon session which starts at 2:00 p.m.," said a mother bringing her whole family from northeast China.
For Liao Jilong and his family, this is the second time standing in the long line. When the family showed up a day earlier, in the afternoon, it was too late. But this time, after lining up for two hours, they made it in.
"We came from Shenzhen in south China. We want to make the best use of our summer vacation and bring the kids here. This could help cultivate their aspirations starting at a very young age," Liao said while standing in the front of the long line.
His older son Liao Jinpeng is nine years old. He knew Peking University is China's top-ranked school and said his parents hope he could enroll there one day.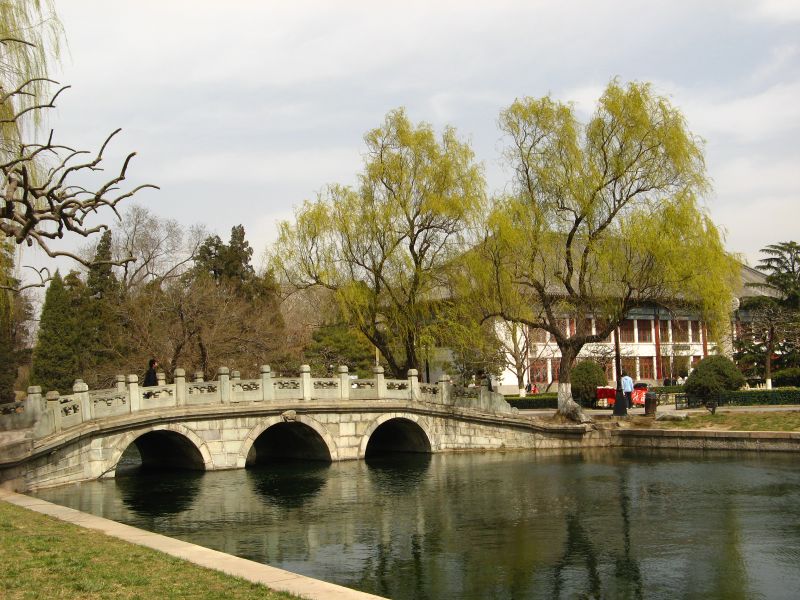 University campuses are not well equipped to receive tens of thousands of tourists at once. And because of that, they have to set certain limits on individual and package tours.
Peking University accepts limited numbers of tourists during morning and afternoon sessions. While neighboring Tsinghua University only allows 6,000 visitors each day.
Summer rain doesn't stop tourists like Liao from their university pilgrimage. They are guided by a student volunteer Xiao Li from Peking University's Cultural Heritage Protection Association.
Walking along the Weiming Lake, catching a glimpse of the Boya Tower, taking a deep breath in the air surrounded by top students – these scenic spots mean a lot for aspiring parents and children.
"People here are saying that if you touch the stone-made fish on the Weiming Lake. You could get full scores in exams. I love Peking University," said Liu Dingning, an eight-year-old girl from northeast China's Jilin Province.
"As a Chinese saying goes, these parents expect boys to be dragons and girls to be phoenixes in the future. People believe that hard work will pay off. So parents would try their very best when their children are young to help foster their aspirations," said Dr. Wang Yan, Director of the International Exchange Department at National Institute of Educational Sciences.
Walking around the campus does not guarantee the kids an admission. However, these tours indeed make both the parents and their children feel one step closer to their dream school.
"I feel Peking University is really worth visiting despite the long wait. Although I did not have a chance to study here, I still hope my children can work hard and be admitted one day," Liao Jilong said.
"I love Weiming Lake the most. I enjoy the beautiful landscape and the fresh air. I believe I can make it here one day, for sure!" Liao Jinpeng said with confidence and satisfaction.
Source: https://news.cgtn.com/news/3245444e30557a6333566d54/share_p.html