China marks 2,568th anniversary of Confucius' birth
2017-10-09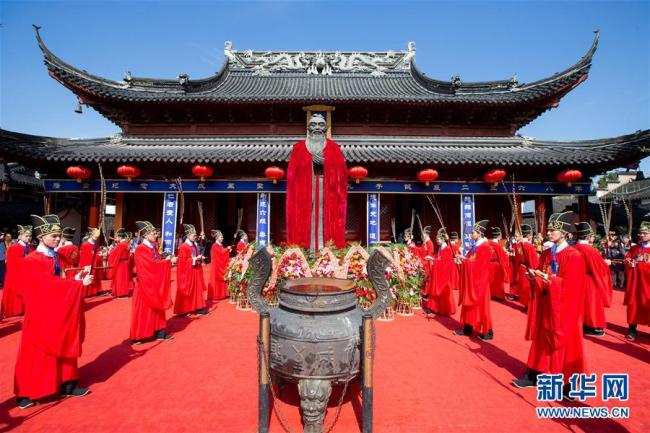 China marks 2,568th anniversary of the birth of Confucius
Ceremonies were held in a number of Chinese cities recently to celebrate the 2,568th anniversary of the birth of Chinese philosopher Confucius.
In Qufu, Confucius' hometown, about 3,500 people wearing yellow ribbons marched toward the Confucius Temple, where ceremonial dances were performed. The participants included UNESCO officials, scholars, students and descendants of Confucius from over 20 countries and regions.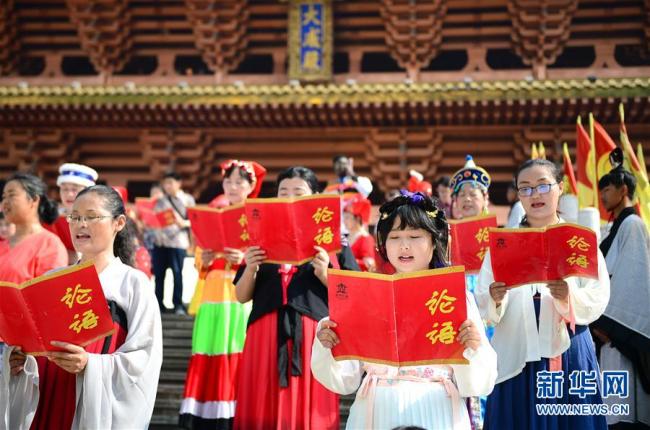 A further 2,500 students and employees recited classic quotes from "The Analects," a record of Confucius' ideas and sayings, in front of the temple.
Dancers wearing costumes from the Han Dynasty (202 B.C.-220 A.D.) gave a performance. Representatives laid flowers in front of a statue of Confucius, and each participant bowed three times toward the statue.
Confucius (551-479 B.C.), was an educator and philosopher who founded a school of thought, deeply influential on later generations, known as Confucianism. He also set up the first private schools in China that enrolled students from different social classes.
In Quzhou in east China's Zhejiang Province, Sharon Gou and five colleagues from the United States attended a ceremony at Nanzong Confucius Temple where a group of people recited Confucius' classics together to celebrate the anniversary.
It is the first time that Gou, director of the Confucius Institute at University of Oklahoma, has come to Quzhou to participate in the memorial ceremony.
The Nanzong Confucius Temple is one of the Confucius family temples and several descendants of Confucius live in the city.
"Confucius' ideas are popular in many countries and it is my honor to participate in the memorial ceremony in Quzhou this year," said Gou.
The ceremony provided a platform for foreigners to learn more about Confucius's ideas and sayings, she said, adding that Confucius' teachings have also had a deep influence on the values, thinking and behavior of many people outside China.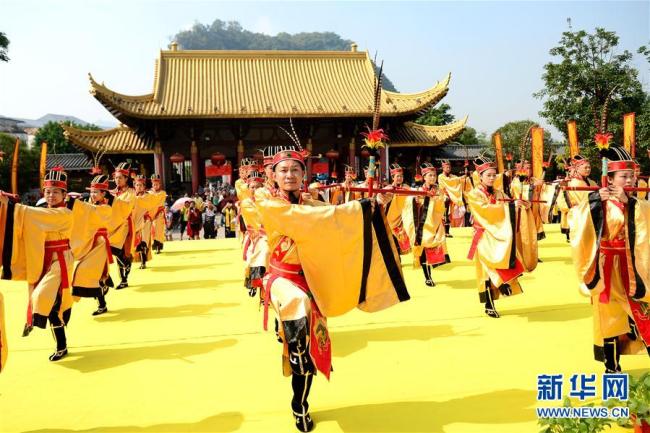 This year, Kong Xiangkai, one of the 75th generation of descendants of Confucius, chose not to host the ceremony but instead to stand with the public to celebrate the birth of his ancestor.

"The fact that more people are attending the ceremony will increase the influence of Confucius' teachings on people around us," said Kong.
The Confucius memorial ceremonies were listed as the intangible cultural heritage in China in 2006.
For thousands of years, Confucius has been regarded as a symbol of China's traditional culture as well as the country's intellectuals.
Annual commemorations of Confucius' birth started in 478 BC, the year after his death. There are currently about 1,300 Confucius temples worldwide, many of which hold ceremonies on the anniversary of his birth.
Source: http://chinaplus.cri.cn/news/china/9/20170928/32883.html