Chinese student praised for inspiring US graduation speech
2017-06-16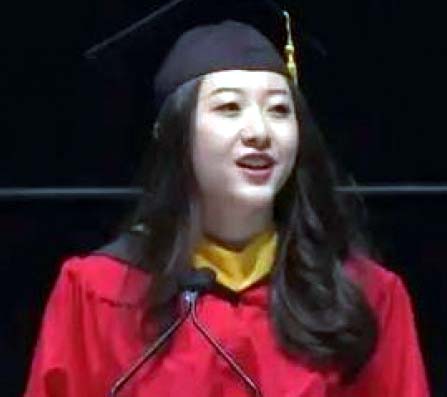 Chinese student Cai Yujing praised for inspiring US graduation speech
Another graduation speech by a Chinese student in the United States has gone viral, but this time has been praised for its positive and inspiring tone, reports the China People's Daily.
Receiving her Master of Science in Math Finance from Boston University, Cai Yujing, who comes from Nanjing city in east China's Jiangsu Province, spoke about her hometown and family members present at the ceremony, and then shared her 6-year experience studying with students from different cultural backgrounds.
In her 7-minute speech, Cai talked about how she adapted to the diverse community at the Questrom School of Business and established mutual understanding with fellow students.
Overcoming awkwardness, nervousness, and even occasional anger when exchanging ideas with people from different countries, she said she also experienced the joy of sharing, inspiring and embracing each other, adding that such an experience opened her mind to learning about and embracing diversity.
Cai's speech won a lot of praise online with some saying her address highlighted the positive perspective of Chinese students.
Many compared it to a speech made by another Chinese student in the US last month.
Yang Shuping, a graduate student at the University of Maryland, preferred to compliment the "fresh air" in the US in her graduation speech while damning the air quality of her hometown Kunming, a city that actually enjoys good air quality.
Yang's speech went viral last month and triggered outrage among Chinese netizens, who accused her of complimenting the US and belittling her homeland.
Yang later posted an apology on her Sina Weibo social media account, and asked for forgiveness.
Source: http://chinaplus.cri.cn/news/china/9/20170610/6150.html